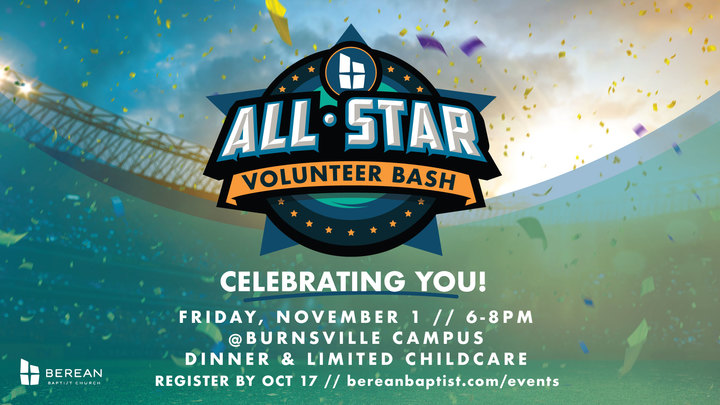 Dates & Times
Nov 1, 2019

6:00pm - 8:00pm
Attendee Types
Volunteer

Free

Child needing child care (0-10 years)
Details
If you volunteer at Berean, this All-Star Bash is for you!
We want to thank you for getting off the sidelines and into the game. This will be a team celebration you won't want to miss.
Just for fun, come wearing your favorite sportswear. Please register by October 17th.
All-Star Bash Play-by-Play
5:45 p.m. Pregame: doors open
6 - 6:45 p.m. Tailgate: dinner catered by This Little Piggy
6:45 - 8 p.m. Game time: live music, giveaways, and a discussion with guest speaker Paul Allen, the Voice of the Minnesota Vikings... & a surprise guest!
Childcare
Limited childcare is available for kids 10 years old and younger. You must register them before the event. When registering children, select their names at the beginning of the form when household names appear. We will not provide dinner for your children, so please feed them and take them to the bathroom prior to dropping them off. We will provide snacks for kids 3 - 10 years old.